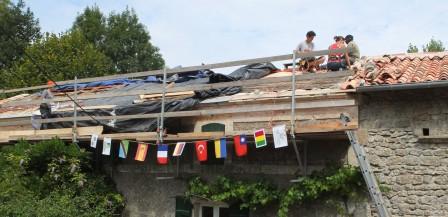 En 2008, les responsables du Camping-Club des Deux Sèvres, rencontrent l'équipe municipale de Béceleuf pour lui présenter un dossier insolite : comment réaliser des gros travaux au gîte de Rochard alors que l'association du Camping-Club n'a pas les moyens de les faire accomplir par des professionnels ?
In 2008, the members in charge of the camping club of Deux-Sèvres met the mayor's team of Béceleuf to question them with a special project: How to make restoration works at the gîte of Rochard when the Camping-club Association hasn't got the funds to have them made by professionals?
La proposition d'organiser des chantiers internationaux a eu d'emblée le soutien de la municipalité. La réponse a été trouvée dans un partenariat à cinq : le Camping-Club, propriétaire et porteur du chantier de Rochard, l'association Solidarités-Jeunesses spécialisée dans l'accueil de jeunes internationaux et l'organisation de chantiers, la commune de Béceleuf qui assure l'hébergement des jeunes dans des locaux municipaux, la communauté de communes Gâtine-Autize, le Pays de Gâtine et la région Poitou-Charentes qui soutiennent le projet.
The answer was to set up an international camp which received the immediate approval of the mayor's team. In that purpose, five partners were found to support the project : the camping-club, owner and leader of the restoration of the gîte, the Association "Solidarités-jeunesse" specialized in receiving international groups of youngsters and in organizing restoration works, the village of Béceleuf which catered and accommodated in local hosing, the community of villages from Gâtine-Autize, the Pays of Gâtine and the region of Poitou-Charentes.
Au terme de sept campagnes estivales, un bilan très positif peut être établi :
Les toitures, maçonnerie des hauts de murs, charpente et couverture ont été refaites à neuf grâce au travail réalisé lors des chantiers internationaux, complété par celui d'un artisan local.

With the precious help of a local craftsman, the roofs, the tops of the walls, the carpentry and the tiling of the gîte were totally renewed by the successive international camps.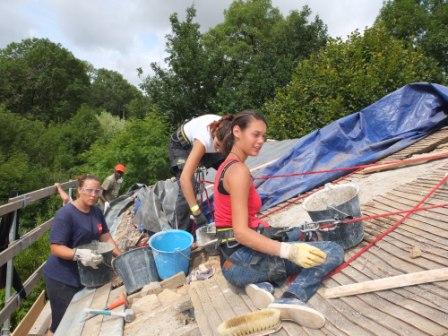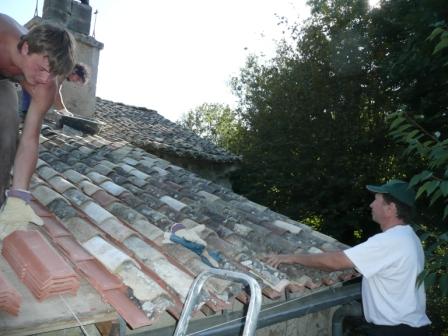 Tout autour du bâtiment, la base des murs a été reprise dans les règles de l'art par les jeunes guidés par un maçon spécialisé dans les méthodes traditionnelles.

All around the building, the bases of the walls were given a new treatment by the youngsters under the guidance of a builder specialized in traditional materials.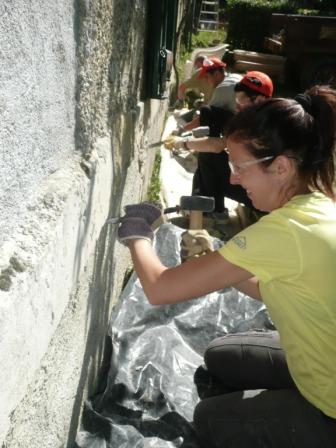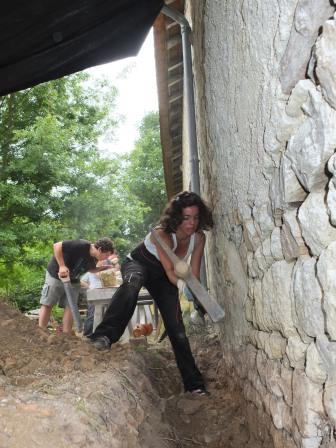 De la taille de pierre et divers aménagements ont complété les activités.
Activities in stone-cutting and various other works completed the restoration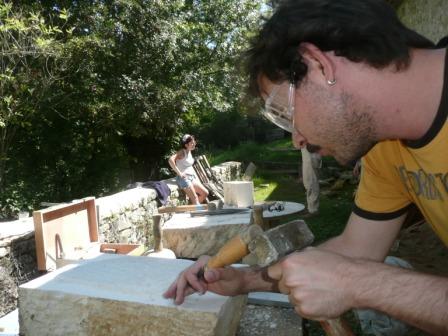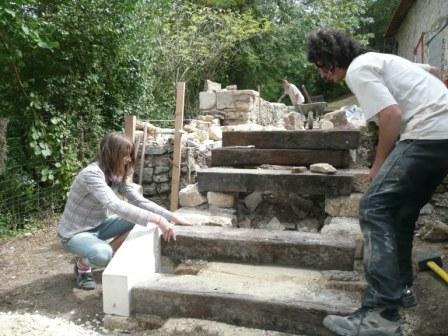 Mais ce bilan quantitatif et technique n'est qu'une des facettes très riches des chantiers internationaux : en cumul sur cinq étés, ce sont plusieurs centaines de personnes qui sont passées au refuge pendant le chantier et qui ont échangé avec les jeunes pendant des moments conviviaux comme le dîner international sur la place de la mairie ou le bal au pigeonnier de Pouzay.
But the technical side of the project is only part of the richness of the international camp. Over five summers on end, several hundreds of people were received on the site and had warm and friendly exchanges with the local young people during special events such as the international meal on the town hall place of Béceleuf and the dance round the pigeon-house of Pouzay.
Une véritable dynamique anime les lieux chaque été à Béceleuf qui a accueilli 20 nationalités et quatre continents (Afrique, Amérique du Sud, Asie et Europe). A bientôt !
There is a true dynamic current every summer in all places of Béceleuf that receives 20 nationalities from 4 continents ( Africa, South America, Asia and Europe). We hope to see them all again very soon !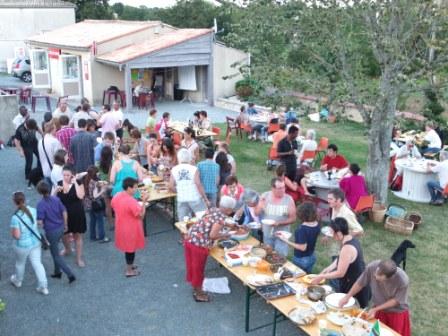 Le repas international sur la place du village de Béceleuf
The international meal on the market place of the village of Béceleuf.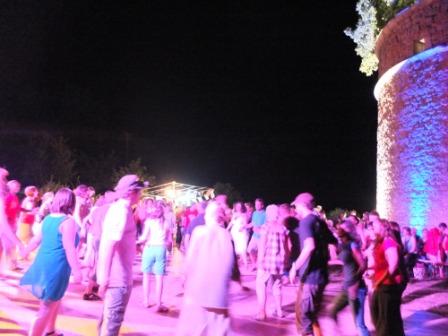 Le bal au pigeonnier de Pouzay
The dance round the pigeon-house of Pouzay.